Ladurner Equipment and the Koelliker Group together key players at Ecomondo, the trade fair for the ecological transition that brings together all sectors of the circular economy, to be held in Rimini, Italy, Nov. 8-11, 2022
RIMINI – At Ladurner Equipment's exhibition booth it will be possible to get in touch with two of the 100% Full Electric vehicles that Koelliker, Ladurner's partner company as well as a pioneer and leader in Italy in proposing sustainable and intelligent mobility solutions, imports: the Maxus eDELIVER 9 commercial vehicle and the Wuzheng 3MX three-wheeler, both of which Ladurner Equipment has specially outfitted for the waste collection service.
Maxus eDELIVER 9 – LV5e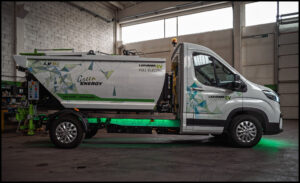 The robust and spacious Maxus eDELIVER 9 boasts an electric motor with a power output of 150 kW (203 hp) and torque of 310 Nm, enabling smooth and powerful acceleration. The Van version of the eDELIVER 9 has exceptional cargo volumes (up to 12.33 m3) designed to meet a wide range of business needs and can be equipped with 51.5, 72 or 88.5 kWh batteries, while the Chassis Cab version is available exclusively with a 65 kWh battery. Depending on the choice, it can be recharged up to 80 percent in 36 to 45 minutes. In the version set up by Ladurner Equipment for urban sanitation, either with a 5-m3 free tank or equipped with a compaction shovel, it enables multi-shift operation thanks to its excellent autonomy while maintaining high payload capacities in both configurations.
Both models, in addition to being efficient and technological, are equipped as standard with a comprehensive active safety package designed to ensure safety and maximum protection.
On board the Maxus eDELIVER 9, every aspect is designed to provide an ergonomic and comfortable driving position. Comfortable, well-maintained seats provide all the support and backing the driver needs, while the dashboard, designed to have everything under control, makes it easy to reach any control, minimizing distractions.In addition, the eDELIVER 9's 10-inch infotainment system provides useful driving information and allows you to connect your smartphone in comfort and safety.
Wuzheng 3MX – LV2e
Imported by Koelliker Group, Wuzheng 3MX made its debut at Transpotec Logitec 2022 in Milan last May.
Ideal for numerous uses, from construction to urban sanitation, agriculture to street food, 3MX is capable of operating in all kinds of situations. Thanks to its electric powertrain, it is environmentally friendly and quiet, features that are perfect for use in urban settings and within LTZs, even at night.
Equipped with generous ground clearance and excellent traction, provided by traction on the two wheels of the rear axle, it handles gravel and low-grip surfaces with ease. Finally, with a turning radius of 8.5 meters, and also thanks to the single front wheel, it is agile in maneuvering and in tight spaces.
From 3.89 to 4 meters long depending on version, the 3MX has a payload capacity of up to 1 ton and is equipped with a spacious and comfortable cab, complete with air conditioning. If purchased in the Chassis variant, with an exposed chassis, it lends itself to specific customizations and fittings that make it perfect for a wide variety of uses, including street food needs.
The Wuzheng 3MX is equipped with a 20.74 kWh lithium-ion battery that powers a 29 kW / 39 hp maximum power motor (10 kW / 13.6 hp rated power) with a maximum torque of 155 Nm. It reaches a maximum speed of 60 km and boasts a range of 174 km in the WLTP cycle, a very high mileage considering the conditions of use for which it was designed. The traction battery, which takes 4.8 hours to recharge 20%-80%, is guaranteed for 5 years or 120,000 km.
Thanks to its many strengths, in the version set up by Ladurner Equipment for urban sanitation services with a 2-m3 tank, it is the ideal partner for carrying out street cleaning services but also for collections in historic centers and to date has no rival for its category.